Email: Tinapadilla5@gmail.com
Image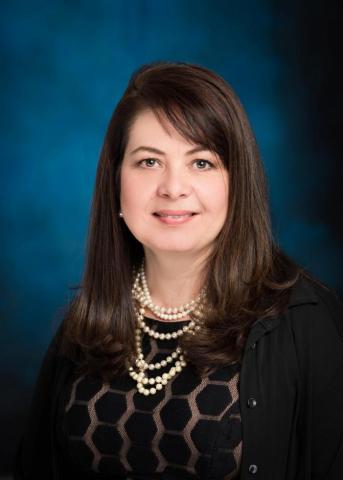 "Members of CTPF who want to ensure their financial independence when they retire, can count on my advocacy."
Trustee Tina Padilla is National Board Certified (AYA 2011) and a veteran mathematics teacher, with Chicago Public Schools for thirty years. Trustee Padilla has served as the Chicago Pension Fund Board's Financial Secretary, and currently chairs the Board's Investment Committee and serves on the Personnel and Technology Committees. Trustee Padilla's accomplishment are not limited to the list below:
Restored the Chicago Pension Levy which was terminated in 1995 and the state normal cost payments.
Highlighted at the Illinois Senate Special Committee hearing as a leader in identifying and investing with high quality Minority, Women and Disabled-Owned Enterprise (MWDBE) firms.
Challenges the fees charged by all managers
Was voted to serve as the Board of Trustee IT liaison on the Modernizing of our Pension Administration System
A panelist at the Hispanic Heritage Foundations 7th Annual Investors Forum 2020, where Trustee Padilla shared her personal experiences as a Trustee in Driving Change.
A lifelong resident of Chicago's northwest side, Trustee Padilla earned a bachelor's degree in mathematics from Northeastern Illinois University, a master's degree in mathematics from DePaul University and an MBA, area of concentration was finance, from the Keller Graduate School of Management, and she is a  Certified Children's Yoga Instructor. She is also a licensed mortgage broker for over fifteen years.
Trustee Padilla is a Chicago Teachers Union (CTU) member and has served as a District Supervisor, union delegate, Sargent of Arms, and several other committees including Pension and Insurance, Women's Rights, Curriculum, Legislative and Political Action Committee. She is a member and delegate of the Illinois Federation of Teachers and the American Federation of Teachers. Other memberships include the Coalition of Labor Union Woman CLUW and the National Council of Teacher of Mathematics. 
Trustee Padilla has written and received several educational grants for her mathematics-tutoring lab. She established a summer-gifted program for incoming first-year students and authored two mathematics curricula. She was inducted into the Hall of Fame Prosser Vocational High school, receiving a Lifetime Achievement Award for Outstanding Performance and Dedication in Education in 2011.
Currently, Padilla is enjoying her role as a middle school math teacher at James Russell Lowell elementary in the Humboldt Park community of Chicago. 
Experience
James Russel Lowell Elementary School
6th, 7th, and 8th grade Mathematics teacher, 2017- Present
Marine Leadership Academy 
Teaching Dual Credit Business, Dual Credit Mathematics and Senior level Mathematics.
Create engaging lessons & projects to differentiate instruction for students with a wide range of abilities and needs.
Preparing students to become college and career ready by successfully tapping into students' interests and abilities.
Aspira Business and Finance High School, 2016-2017 Mathematics Teacher
Help students learn the fundamentals of Algebra 1 and how it is relevant not only for business & finance but also their success in life.
Symposium, social-emotional instruction, intervention and English as a second language instructor.
Lane Tech High School    1995-2016, Mathematics Teacher
Taught all levels of high school math, including advanced mathematics and computer science classes.
Developed and directed a summer-gifted program for incoming freshmen (1996), which was later adopted as a recruitment tool and is currently offered to all incoming students.
Established a math-tutoring lab (2010) that serviced 4,200 students during lunch periods, staffing it with volunteers who were college math majors, peer tutors and professional math instructors.
Collaborated with the Machine Shop, English Department, Drafting Department and Mathematics Department to develop an integrated curriculum.
Contracted and facilitated workshops, sport clubs and socials.
Pension Trustee 2011-Present
Chair, Investment Committee, Personal Committee, IT Committee
Financial Secretary
Chair, Audit and Finance Committee
Presented at the National Conference for Public Employee Retirement Systems (largest trade association for public-sector pension funds)
Education
Keller School of Business Management, Chicago, Illinois
Masters in Business Administration with a concentration in Finance
DePaul University Chicago, Illinois
Masters of Art in Mathematics
Northeastern Illinois University, Chicago, Illinois
Bachler of Art and Science, Mathematics/Adolescence and young Adulthood
National Board Certified 2011
Disclaimer: CTPF is not responsible for the content of this material and has not verified any of the information.