Lenoir includes as part of Crain's 2023 Notable Leaders in Finance
Image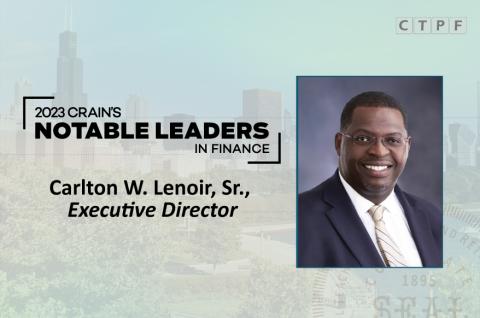 The Chicago Teachers' Pension Fund (CTPF) is proud to announce that its Executive Director, Carlton W. Lenoir, Sr., has been honored as one of Crain's Chicago Business' 2023 Notable Leaders in Finance. This recognition highlights Lenoir's exceptional leadership, dedication, and contributions to the financial sector in Chicago. 
"It is an honor to be recognized among the Notable Leaders in Finance by Crain's Chicago Business. This recognition is a testament to the collective efforts of our dedicated team at the Chicago Teachers' Pension Fund," said Carlton W. Lenoir, Sr.  
A results-oriented pension fund professional with over 34 years of executive and operational experience, Lenoir began his career at CTPF, serving as an Active Accounts Counselor and worked his way up to management   He went on to hold leadership roles with public pension plans in Georgia and Central Illinois before returning to CTPF as Executive Director in 2021 following a national search. His experience includes all phases of public pension fund administration.  
"Carlton's recognition is well-deserved. His dedication to the Chicago Teachers' Pension Fund and his exceptional skills have earned the respect of all CTPF stakeholders," said Jeffery Blackwell, President of the CTPF Board of Trustees. "His inclusion in this list is a testament to his leadership and commitment to the welfare of our members. We are honored to have him lead our organization." 
A graduate of Whitney M. Young High School, Lenoir earned a Bachelor of Business Administration from American Intercontinental University and a J.D. from Atlanta's John Marshall Law School. He completed the Executive Leadership Development Program at the University of Georgia Leadership Institute, earned a Retirement Plan Administrator Certificate (RPA) from the International Foundation of Employee Benefits & Wharton School of Business at the University of Pennsylvania, and recently completed his Certified Employee Benefit Specialist (CEBS) certification.   
To qualify for the list, nominees must serve in a senior leadership role in finance at their places of employment, work in the Chicago area, and demonstrate leadership through mentoring, involvement in professional organizations, and participation in community and civic initiatives.