This summer, The Chicago Teachers' Pension Fund (CTPF) partnered with the Chicago Summer Business Institute (CSBI) to welcome three interns to its team.  
"As we welcomed Danisa, Isabella, and Amir to CTPF, I was filled with optimism for the future. This was not just an opportunity for them to learn and grow, but also a chance for us to learn from them," said CTPF Executive Director, Carlton Lenoir, Sr. "We appreciate the work and contributions that our interns had this summer and look forward to continuing our partnership with CSBI."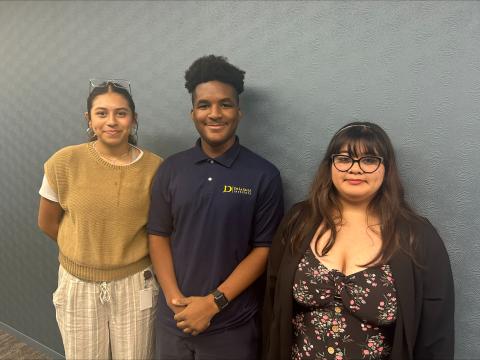 CSBI was founded in 1991 to provide paid summer internships for Chicago high school students and introduce them to the financial services sector. The program encourages students to continue their education and prepares them for the business world.   
"The Chicago Summer Business Institute is a six week long internship program committed to helping students gain access to jobs and professional development so they can set out on their own paths to leadership and success. CSBI is very proud to partner with CTPF in helping students achieve their goals. The mentorship that CTPF provides is inspiring, instructional and builds a sense of community dedicated to supporting students while they achieve their own goals and improve the city at large," said Julia King, Director of CSBI. 
Meet the Interns 
Isabella 
Isabella is a student at Chicago Hope Academy where she is in multiple Honors classes and has earned the HighSight Scholar Award, as well as the Scholarship Award. She participates in gardening, art programs with After School Matters, and is fluent in both Spanish and English. Isabella enjoys soccer and volleyball and has volunteered with the Special Olympics for the last three years.  
Amir 
Amir is a student at De La Salle Institute where he is a HighSight Scholar and on High Honor Roll. Aside from his accomplishments in education, he has been voted Flag Football MVP, has placed second in chess, and participates in swimming and football. Amir has a variety of experiences outside of school including his participation in the After School Matters program, the Black Ecosystem program, and volunteering with the Special Olympics and the Saint James Food Pantry. 
Danisa 
Danisa is a student at Prosser Career Academy who is enrolled in Honors Classes, AP Spanish, and is on the Honor Roll. She has a strong love towards math and is fluent in both Spanish and English. Danisa participates in a variety of extra-curricular activities at her school, including water polo, swimming, GSA Club, and Drum & Bugle. Aside from her education, Danisa is a part of Arise Creations through New Life Centers where she has gained experience in business, leadership, public speaking, and more.  
All three students worked full-time this summer and assisted with a beneficiary benefit information project, evaluating forms and updating information.