Image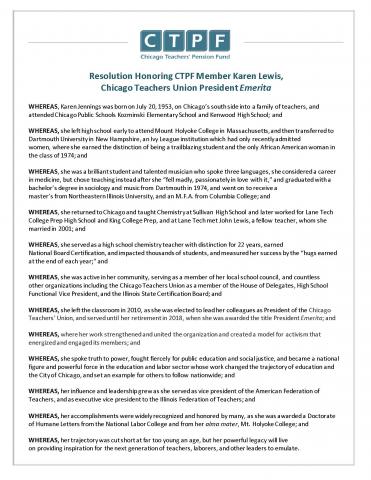 The CTPF Board of Trustees voted unanimously to pass a resolution honoring CTPF Member and CTU President Emerita, Karen Lewis, during their February 18, 2021, meeting. The honor follows Lewis' passing on February 7, 2021. 
The resolution noted her lifetime of accomplishments and powerful legacy which will live on providing inspiration for the next generation of teachers, laborers, and other leaders to emulate.
The Trustees determined that: 
Karen Lewis, President Emerita of the Chicago Teachers Union and CTPF Member has served her students, profession, community, and nation with distinction.
Karen Lewis fought tirelessly to foster excellence in the teaching and learning experience, to safeguard public education, advocate for equality, and protect the rights of CTPF students and educators throughout state of Illinois and throughout her life.
That the Board of Trustees, on behalf of the CTPF membership, recognize, acknowledge, and appreciate Karen Lewis' legacy and hold that her memory be forever a blessing.