Image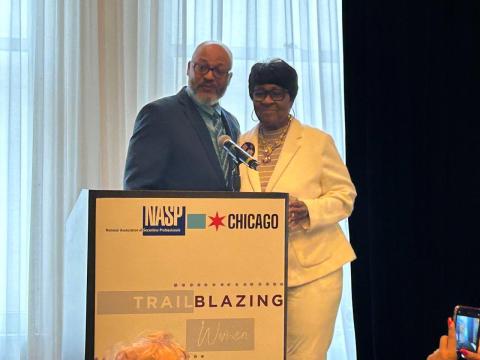 Former Chicago Teachers' Pension Fund (CTPF) Trustee Patricia Knazze was chosen as one of 20 Trailblazing Illinois Women who are champions of diversity and inclusion in financial services by the National Association of Securities Professionals (NASP). Knazze and the other honorees were recognized at the Trailblazing Women Honoree Breakfast on Wednesday, March 29, 2023.
Knazze served on the CTPF Board for nearly 10 years, representing active teachers from 1996 until 2005. She served in several leadership positions including President, Vice President, and Chair of the Investment and Personnel Committees.
"Pat's leadership helped to ensure that our Fund set the standard for diversity and inclusion, and helped put in practice initiatives that have become the template for organizations nationwide," said Carlton W. Lenoir, CTPF Executive Director. "We appreciate and are grateful that she has received this recognition from NASP."
Knazze retired from CPS after more than 35 years of service and remains an active community volunteer. She currently serves as Vice Chair of the DuSable Black History Museum and Education Center, is a Retired Committee Member of the Chicago Teachers' Union, and a lifetime member of the Retired Teachers Association of Chicago. She formerly served as a Board member of the Chicago Teachers' Union Foundation. She earned her B.S. in Elementary Education and her MS. in Library Science and Communications Media from Chicago State University.