Image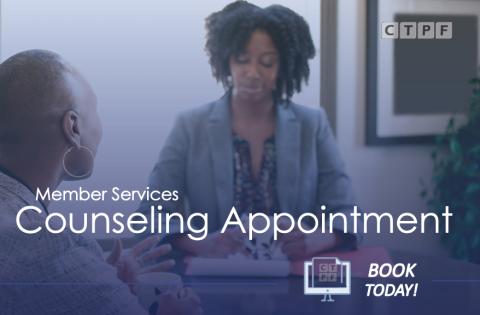 Do you have questions or need retirement counseling? CTPF's Member Services team offers phone, video, and in-person counseling appointments. Member Services at 312.641.4464 or send an email to memberservices@ctpf.org to schedule an appointment. Note: Walk-in appointments are not accepted. Visitors need to be added to the building's security list in advance of their visit. 
Members visiting CTPF for an in-person appointment must present a valid, government-issue photo ID to the building's security team. Proof of COVID-19 vaccination and a health screening form are required upon entry (form available here). 
COVID-19 Vaccination Policy
CTPF requires everyone who enters the office to be up-to-date on their COVID-19 vaccination and to provide proof of vaccination upon entry. You are up to date with your COVID-19 vaccines when you have received all doses in the primary series and all boosters recommended for you, when eligible. Suitable forms of proof of vaccination include:  
The record of immunization from a health care provider or pharmacy 
A copy of the COVID-19 Vaccination Record Card or medical record 
A copy of immunization records from a public health, state, or tribal immunization information system 
Visit ctpf.org/office-information to prepare for your visit.