Image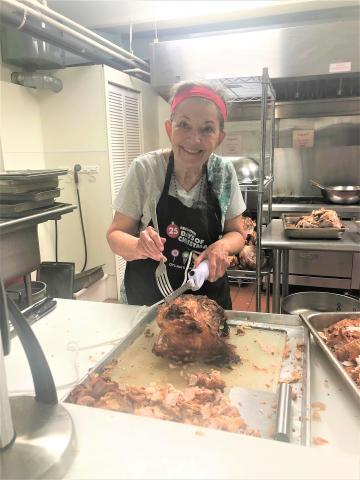 Whether it was during her 30.4 years as a teacher or during her retirement, Linda Norby has always used her passions and talents  to benefit others.  
Linda graduated with a Bachelor of Fine Arts from the Art Institute of Chicago and began student teaching at Marshall High School, eventually accepting her first position as the art teacher at the Manley Branch. In 1971, Linda and her family moved to Atlanta where she continued to teach art for one year before pursuing a master's degree at Johns Hopkins University. During this time, Linda also became a mom. 
After receiving her Masters in Liberal Arts and staying at home with her daughters. Linda moved back to Chicago in 1984 and returned to CPS (Chicago Public Schools). Linda was assigned to Mayo Elementary School, where she taught first grade, and after 5 years, was offered the position of art teacher.  
Linda taught at Mayo Elementary School for 12 "delightful" years before moving onto Jesse Owens Elementary Community Academy in 1996, where she was for 16 years of her career. During her time as a teacher, on top of being extremely passionate about her work, Linda achieved National Board Certification and received several Oppenheimer Grants. She looks back on her career fondly and retiring has not slowed her down in the slightest but allowed her to focus on her love of cooking, art, travelling and, of course, being a grandma.  
A born and raised Southsider, Linda made the decision to move to the Northside to be closer to her grandchild. Shortly after moving, Linda saw people living under the viaducts around the city and she wanted to help. Around the holidays, Linda noticed that hams were on sale and took it as a sign. She bought the hams and sides and made 18 meals for the people under the viaducts. After that, every week, on Tuesday, she would cook and deliver the meals.  
Linda's random act of kindness turned into something bigger when she started volunteering at All Saints' Episcopal Church and, with her love for cooking, gravitated toward the kitchen. When the church needed a lead chef to cook meals for Ravenswood Community Services once a month, Linda accepted the position and has been doing it ever since 2017. Linda enjoys her position as head chef and thinks of it as a puzzle, receiving a variety of donations from the Chicago Food Depository and using her creativity to figure out different meals with the ingredients available.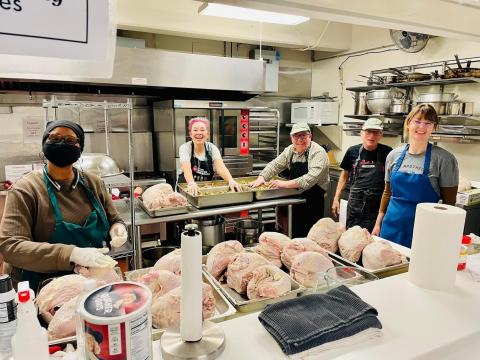 Aside from creating a menu and cooking meals for up to 250 people every month, Linda embraces any opportunity to volunteer and help others. For the last 14 years, she has volunteered with There Really Is a Santa Claus, a local organization which provides Christmas gifts to families who have written letters to Santa. More recently, Linda has started volunteering with Lasagna Love, a global nonprofit and grassroots movement that aims to positively impact communities by connecting neighbors with neighbors through homemade meal delivery.  
Between her volunteering, Linda makes sure to take time for herself. She is a talented and devoted tapestry weaver and for the last several years, she has exhibited at Fine Art of Fiber at the Chicago Botanic Gardens. Linda also loves to travel, visiting places such as Mongolia and Iceland. Along with all her accomplishments and hobbies, a large part of Linda's life is dedicated to being a grandma to her 8-year-old grandson. 
Throughout the years, Linda has embraced her talents and passions and used them to help those less fortunate around Chicago. She has redefined retirement as a time to focus on what makes her happy, while also being generous enough to make others happy as well.