Image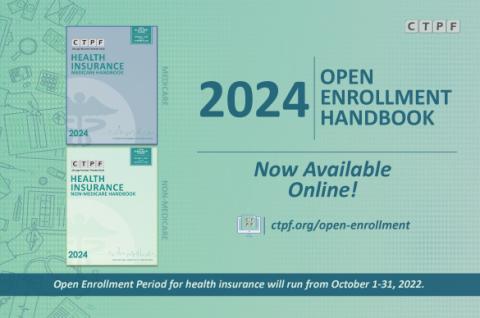 The 2024 Open Enrollment Period will run from October 1-31, 2023. During this time, annuitants can enroll, add or drop a dependent, or change a health insurance plan or carrier. Changes become effective January 1, 2024. 
The 2024 Health Insurance Handbooks are now available and offer an overview of Medicare and Non-Medicare plans and costs. The Medicare Handbook was mailed in mid-September by first-class mail, for delivery by October 1. View and download the 2024 Health Insurance Handbooks below or at ctpf.org/open-enrollment.  
All plans offered in 2023 will be offered in 2024. You do not need to take any action to stay enrolled. 
New in 2024  
CTPF will offer the Cigna Surround Group Supplement Plan with Express Scripts Medicare (PDP). This is an insured plan that is modeled after Medicare Plan G. This plan is available to members who are Medicare recipients who turned 65 in 2020 or later.   
For more information about the plan please call the Cigna Pre-Enrollment line. 
Open Enrollment Vendor Fair 
CTPF will be hosting a vendor fair on Thursday, October 12, 2023, on the third floor of our office building (425 S Financial Place). Find more information here. 
Open Enrollment Education Week 
From October 2-6, CTPF will offer Open Enrollment Webinars and audio presentations to educate members about CTPF's health insurance plans. Presentations from all CTPF Health Insurance carriers will be held the following week. For registration and dial-in information visit ctpf.org/calendar. 
Premium Subsidy 
At the August 2023, Board of Trustees meeting, the health insurance premium subsidy was set to 60% for 2024. The subsidy is only available to eligible CTPF members. Dependent coverage is not eligible for the subsidy. 
For more Open Enrollment Resources visit ctpf.org/open-enrollment.